About Step Up Tuition
We offer professional tuition in English and Maths to children aged 6 - 16 years in the Altrincham, Sale, Timperley, Hale, Warrington, Lymm, Knutsford and Wilmslow areas.
All the maths and English tutors at Step Up Tuition are fully qualified teachers and have DBS checks.
The centre is run by Mike and Jane Ford, who have taught in primary and secondary schools and have over 30 years teaching experience between them, including extensive knowledge of entrance exams and GCSEs .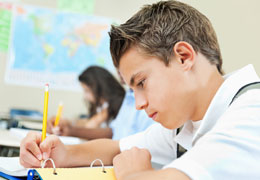 We have an excellent track record of success, with a loyal customer base, which results in around 90% of our parents coming to us following a recommendation.
We opened a Kip McGrath Centre in Altrincham and Sale in 2002 and moved due to expanding numbers, to the current location on Brook Lane in Timperley in 2005. In 2011 we left Kip McGrath and became the independent Step Up Tuition Centre. We are now free to provide the best possible independent learning materials, carefully chosen to match the specific requirements of the Altrincham area.